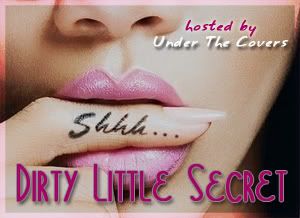 Dirty Little Secret is a weekly meme hosted by us at Under the Covers. Every Thursday we get to know other bloggers and our readers more intimately by asking them a question hoping to reveal their dirty little secrets. We hope that you will all join us!
Non-bloggers: We want to hear from you as well!!! Let us know your answer in the comments!
We hope you join us and let us know your Dirty Little Secrets!
This week's question:
Who is your favorite flawed hero and/or heroine and why do you still love them despite their faults?
Blackraven's Response:
Colt McKay is definitely my hero who has flaws and that's exactly the reason that I love him. Lorelei James wrote a wonderful character who through tragedy and courage learned how to cope with his addiction and become a better person for it. How can you not love a hero who not only gains a better understanding of his trials and tribulations, but embraces them with gusto. In addition, I loved how he finally stood up to his family and let them know that he had changed, but unfortunately, they continued to see the irresponsible, party-go-lucky, drunk that they'd always know. Colt came full circle in his life, which is what makes his story so compelling. In addition, anyone who has ever had to deal with an addict or is/was an addict can identify with Colt and his struggles, which is what makes his character so life-like. I can't get enough of this hunky McKay.
Great Job, Lorelei!
Now it's your turn!